John W. Webb Lecture Award
Monday, October 17
11:00 am - 11:45 am
The John W. Webb Lecture Award honors pharmacy practitioners or educators who stand apart from others because of their extraordinary dedication to fostering excellence in pharmacy management and leadership.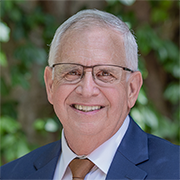 Awardee: Steven Sheaffer, PharmD, FASHP, is an Adjunct Associate Professor of Pharmacy at the Philadelphia College of Pharmacy (PCP) at the University of the Sciences. He retired in 2017 as a full-time faculty member and Vice-Chair for Experiential Learning.
Since retirement, Sheaffer has remained engaged professionally with the Pennsylvania Society of Health-System Pharmacists (PSHP) and related advocacy initiatives, mentored current and past students, and supported pharmacy engagement in emergency preparedness and response, especially during the COVID-19 pandemic.
Sheaffer received his B.Sc. in Pharmacy and his Doctor of Pharmacy degree from Philadelphia College of Pharmacy and Science and completed his hospital pharmacy residency at Thomas Jefferson University Hospital. He began his career as a clinical pharmacist at Jefferson and eventually became Assistant Director for Clinical Programs. Following his time at Jefferson, Sheaffer became Director of Pharmacy for Mercy Catholic Medical Center (MCMC) and later assumed additional pharmacy leadership roles within Mercy Health System and Catholic Health East.
At Mercy, he evolved a progressive patient-focused pharmacy program, started a postgraduate year 1 (PGY1) residency program, and established Mercy as a major rotation site for PCP students. Sheaffer also taught and precepted pharmacy students during his tenure at Jefferson and Mercy. He returned to Mercy as a community member of the MCMC Board of Directors for nine years and served on several board committees.
In 2001, Sheaffer returned to PCP to lead the experiential training program. He transformed the program by revamping introductory student rotations and expanding the scope, geography, and number of advanced practice rotation options, including additional academic medical centers and the pharmaceutical industry. These changes contributed to a significant increase in the number of PCP graduates accepted into PGY1 residency and industry fellowship positions and bolstered the preparedness of students to succeed in practice. He served as the co-advisor to the PSHP-ASHP Student Society of Health-System Pharmacy at PCP. He is most proud of the many graduates he mentored and supported in obtaining post-graduate residency and fellowship positions.
Sheaffer is a Past President of ASHP, having previously served on the ASHP Board of Directors as Chair of the ASHP House of Delegates. He also served as Chair of the ASHP Research and Education Foundation. A Past President of PSHP, Sheaffer is a recipient of the Delaware Valley Society of Health-System Pharmacists Jonathan Roberts Award, the PSHP Pharmacist of the Year Award, the PSHP Sister M. Gonzales Duffy Lecture Award, and, most recently, the PSHP Community Service Award.
Since retirement in 2017, Dr. Sheaffer has continued to actively support and grow PSHP's legislative and regulatory influence in Pennsylvania. He is a member of the PSHP Legislative Committee and the PSHP Ambulatory Care Task Force and is a past Chair of the 2021 PSHP Ambulatory Care Virtual Summit. He is Chair of the Pennsylvania Workgroup on Collaborative Practice Revisions, whose scope includes pursuing provider status for pharmacists. A member of the Pennsylvania Department of Health's (PA DOH) Statewide Committee on Preparedness since its inception in 2004, Sheaffer has been the lead pharmacist on three PA DOH grant-funded projects and has served as a consultant to the Pennsylvania Department of Health and the Philadelphia Department of Public Health on emergency preparedness initiatives.