Plenary Sessions
Opening Plenary
Monday, October 18, 2021
9:45 AM – 10:45 AM
Target Lock: Lifelong Leadership Strategies with a Focus on Success
Faculty: Ali H. Ghaffari, M.A. Phil, Theo – President, Aeterni Patris Leadership Consulting
Hear genuine, hard-fought leadership lessons from Ali's forty-year journey which began when he was born to a young, single mother and continued through his tumultuous childhood. Meet the key people who made a mark on him, leading him to his destined success at prestigious schools and in the cockpit of Navy F-18's defending America's freedom in combat. Ali was later invited as a leadership instructor at the United States Naval Academy for midshipmen, faculty, staff, and coaches. The parallels between military service and healthcare leadership are uncanny. Have an opportunity to train for the battles you may face with successful strategies to up your leadership skills.
Learning Objectives:
Explain the benefits of personal and professional mentorship throughout one's career.
Describe similarities between decisions made during combat and those faced in health system leadership.
Discuss strategies to remain resilient in high pressure situations.
Ali H. Ghaffari, M.A. Phil, Theo
President
Aeterni Patris Leadership Consulting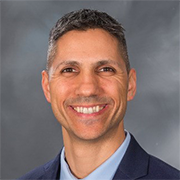 Ali H. Ghaffari is the President of Aeterni Patris Leadership Consulting, where he works with senior leaders to improve their leadership effectiveness. He also measures follower engagement and designs interventions including training, seminars, and team building initiatives. Most recently, he has conducted leadership development initiatives and coached executives across the United States Naval Academy, the United States Naval Academy Alumni Association and Foundation, VisitAnnapolis, and the Chesapeake Bay Outward Bound School.
Additionally, Ali is the founder and Board President of Divine Mercy Academy, a Classical K-8 school which has grown rapidly to become a leader in the Classical Education world under his leadership. Prior to this, Ali spent 20 years in the Navy flying F/A-18's off the decks of the nation's aircraft carriers and into combat operations. Additionally, he spent time as an admiral's aide, an instructor pilot and as an instructor at the United States Naval Academy, where he taught leadership and ethics to midshipmen as well as provided leadership training and mentorship to faculty, staff, and coaches across the Yard. Ali is a certified Executive Coach, having graduated from the University of Buffalo's School of Management program in coaching. He is also certified in a number of assessments which are integral to leadership coaching. His passion is for assisting leaders and organizations to become more effective and to achieve their goals.
Tuesday, October 19, 2021
1:15 PM – 2:15 PM
Still Missing the Mark: How Focus on Diversity and Equity Can Close the Gap!
Faculty: Brenda Battle, M.B.A., B.S.N. – Senior Vice President, Community Health Transformation and Chief Diversity, Equity and Inclusion Officer, The University of Chicago Medicine
The benefits of diversity, equity, and inclusion (DEI) are enormous. Data informs us that diverse organizations and teams perform better. This presentation will explore what drives better performance. Specific strategies demonstrating ways the University of Chicago Medicine used its framework for equity and diversity to improve health outcomes for patients and persons within the surrounding community will be shared by an expert leader from the health system.
Learning Objectives:
List examples of data that support the benefits of diversity, equity, and inclusion (DEI) on team strength.
Discuss strategies to improve health outcomes for patients and communities.
Brenda Battle, M.B.A., B.S.N.
Senior Vice President, Community Health Transformation and Chief Diversity, Equity and Inclusion Officer
The University of Chicago Medicine
Chicago , IL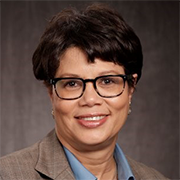 As Sr. Vice President, Community Health Transformation, Brenda is responsible for designing and leading UCM's community-health management strategy including developing and implementing coordinated, innovative healthcare solutions to address the needs of UChicago Medicine-focused populations and that of its surrounding communities. Her role unifies the resources and strategies of UCM and community to address health disparities. Brenda's responsibility includes collaborating with medical and administrative leadership to foster innovation in UCM's care delivery system by, crafting care models that create an environment that promotes diversity, inclusion, and equity.
Prior to joining the UChicago Medicine, Brenda was the director of the Inaugural Center for Diversity and Cultural Competence for Barnes-Jewish Hospital in St. Louis, MO., where she oversaw programs to eliminate health disparities and to promote diversity, cultural competence and health literacy within Barnes-Jewish Hospital and Washington University School of Medical Center. Brenda served as Vice President, Government and Community Affairs for Medical Transportation Management (MTM), Inc., overseeing the national and local presence of MTM as a benefits management organization serving Medicaid and Medicare beneficiaries. She has more than 38 years of health-care experience spanning public and population health.
Tuesday, October 19, 2021
2:15 PM – 3:15 PM
Playbook for a Leadership Legacy
Faculty: Kevin Carter – Philanthropist, Kevin Carter Foundation
Kevin Carter often quotes his father's saying, "To whom much is given, much is expected" and admits he tries to live by that today. Join ASHP for a closing plenary sure to ignite your passion for teamwork and engagement. Nothing is quite like the excitement of the playing field, yet Kevin Carter has, in his post–game professional life, found the key connection to genuine leadership legacy and he will share his strategies with our audience.
Learning Objectives:
Identify leadership strategies to engage a diverse team.
Discuss strategies to create a personal leadership legacy.
Kevin Carter
Philanthropist
Kevin Carter Foundation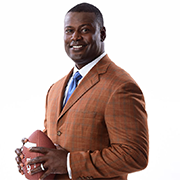 Kevin Carter is a 14-Year NFL veteran, Super Bowl Champion, Sports Broadcaster, Entrepreneur, and Philanthropist. Carter is an In-Studio Analyst for CBS Sports Network covering college and NFL games. He previously hosted the highest-rated college gameday show on ESPNU - The Experts and College Game Day.
Kevin Carter grew up in Tallahassee, Florida, and attended the University of Florida where his All-American career allowed him to be selected by the St. Louis Rams as the sixth overall pick in the 1995 NFL Draft. With four stellar seasons in the league, Carter turned his fifth season with the Rams into the best of his career. In 1999 he led the NFL in sacks with 17, earning him Pro Bowl, All-Pro, and All-Madden honors. Carter eventually accomplished his ultimate goal as a player that year when the St. Louis Rams defeated the Tennessee Titans in Super Bowl XXXIV earning the team its only Super Bowl title in team history.
In 2001, Carter joined the very team he had defeated in the Super Bowl, the Tennessee Titans. In his second year with the team, Cater was a 2002 Pro Bowl selection and helped lead the team to the AFC Championship game with his team high ten sacks. Not only did Carter produce on the field, but off the field as well with vast community endeavors through The Kevin Carter Foundation which he began in 2002. He was voted by his Titans' teammates as the Community Man of the Year during three of the four seasons he spent with the team. Carter then landed with the Miami Dolphins in 2005, where he played two seasons with the team. In his first season with the Dolphins, Carter tied for the team lead in sacks with six. He spent his final two seasons with the Tampa Bay Buccaneers, retiring in 2009. In his 14 NFL seasons, Carter never missed a game.
Kevin Carter finished his NFL career with 104.5 sacks, two Pro Bowl appearances, one All-Pro team, and a Super Bowl ring with the Rams. Mid-career, Carter decided that his next chapter would be in broadcasting after he retired from the NFL. He first became a football analyst/broadcaster for WKRN News 2 in Nashville to cover the Tennessee Titans preseason game broadcasts and then went on to work for Fox Sports South, then ESPNU, and now CBS Sports Network.
In September of 2015, Carter was honored to be inducted into the St. Louis Sports Hall of Fame by his beloved coach, Dick Vermeil.
Throughout his career, Carter fell in love with philanthropy and giving back to the community. In 2002 he began a unique celebrity charity event in Nashville entitled Waiting for Wishes Celebrity Waiters Dinner where celebrities join him from all over the country to wait tables on patrons. In 2005, he tapped his friend, Jay DeMarcus of the country group Rascal Flatts, to co-host the event with him. He has raised over $2.4 million for The Kevin Carter Foundation and Make-A-Wish Middle Tennessee through this event. Looking back on his career, Carter says what he is most proud of is the work he has been able to do in the community, raising millions of dollars for various causes through his foundation.
Carter speaks to various groups on topics of teamwork, overcoming obstacles, and breaking through barriers.