Plenary Sessions
Opening Plenary 1
Monday, October 17, 2022
8:45 AM – 9:45 AM
The Gravity-Defying Leader: Innovative Approaches to Health-System Leadership
Faculty: Sara Frasca, BA Chief Operating Officer, Point NorthEast LLC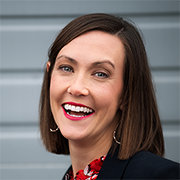 With disruptive forces assaulting health-system operations from every direction, creativity has been labeled the single most important business attribute. To succeed, leaders must be focused on creating a resilient culture where everyone's engaged; a torrent of fresh, creative ideas needs to flow from every level of the organization. Top leaders then employ a secret weapon: a systematic approach to selecting and launching the ideas that will best drive growth and innovation. Sara Frasca weighs in with a fresh perspective on this critical leadership challenge. Frasca shows leaders how to employ her simple but effective framework to ramp up creativity and identify/launch ideas that will break through and defy gravity.
Learning Objectives:
Describe a culture that embraces fresh thinking and new ideas.
List strategies that build courage to foster responsible risk-taking.
Describe tactics to unleash the hidden creativity of your team members.
Use creativity to reimagine processes, drive efficiency, and improve operations.
Sara Frasca
Global innovation expert. Proven senior leader. Award-winning entrepreneur.
With the curiosity of Galileo and the tenacity of a street fighter, Sara Frasca is an innovation and business growth expert. Honing her skills at senior leadership roles in both Corporate America and the world of startups, Sara now serves as Chief Operating Officer for POINT Northeast, a global business coaching firm. She helps leading organizations cultivate human imagination, build a culture of accountability, and solve complex problems to drive business growth. Sara is the go-to resource for leaders seeking competitive advantage and sustainable success by harnessing alignment, marketing and data.
Prior to POINT Northeast, Sara spent 13 years at General Mills in multiple leadership roles. She was also an account director at the interactive agency ePrize, leading the forefront of digital transformation for Fortune 500 brands. Sara is the founder and proud owner of Trasca & Co. Eatery, and was named the 2017 Female Entrepreneur of the Year in Jacksonville, Florida.
Opening Plenary 2
Monday, October 17, 2022
10:00 AM – 11:00 AM
Smart and Exponential Technology: Empowering Pharmacy in the 21st Century
Faculty: Rafael J. Grossmann, MD, FACS, Healthcare Futurist, Technology Innovator, Surgeon & Educator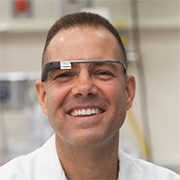 Hear an expert physician leader's ideas on how pharmacy practice and patient experience can improve with the innovative use of smart technologies. Dr. Rafael Grossmann is well known in the field and will present some exciting ideas and offer an opportunity for questions and answers with attendees.
Learning Objectives:
Identify different technologies that enhance communication and connectivity in the healthcare system.
Describe how Immersive Reality can act as a catalyst for better education, diagnostics, and therapeutics.
Discuss the benefits of Extended Reality in the healthcare system.
Identify the limitations of Extended Reality in the healthcare system.
Dr. Rafael Grossmann
Healthcare Futurist, Technology Innovator, Surgeon & Educator
"Technology is just an asset to the basic and most important qualities of a medical provider, compassion and empathy".
Originally from Venezuela, trained in Ann Arbor, Michigan, I've been a full-time practicing surgeon in the USA. My specialties include General, Trauma, Advanced Laparoscopic, and Robotic Assisted Surgery.
I'm also focused on the convergence of Healthcare and Technology Innovation, enabling Digital Health Transformation and enhancing Healthcare and Education.
I performed the first ever documented live Google Glass-assisted surgery in 2013.
I'm advisor and consultant in Digital Health to multiple companies and also a multi-TEDx speaker.
I believe that being a full-time clinician and educator, with a deep passion for innovation technology, gives me the singular advantage and the firm compromise to spread the message of how technology, applied in an intelligent manner, can re-shape our future in ways that we can only dream of.
As a global speaker, Healthcare and Education technologist and futurist, I passionately preach the message of "constructive disruption" of these industries by the intuitive, smart use of exponential technologies.
Throughout my career, I have focused on tapping the paradoxical power of technology to coexist with a better, more humane medical care.
As a telemedicine, Global Health and Digitalhealth advocate, I'm a strong believer in the power of technology to augment healthcare and education, to better connect providers and patients.
I'm absolutely convinced that innovation in healthcare technology, along with the current developments in Mobile and Wearable platforms, Virtual, Augmented and Mixed Reality, along with AI, Deep Learning, Blockchain, Nanotechnology, 3D printing and Robotics will exponentially improve healthcare connectivity, communication and data management, and result in more efficient, intuitive, less expensive and ultimately better and more empathic patient care and Medical Education, as well as improved Global Access to Healthcare.
"Technology is just an asset to the basic and most important qualities of a medical provider, compassion and empathy".
Plenary Session 3
Tuesday, October 18, 2022
1:00 PM – 2:00 PM
Leading Thoughtfully: Strategic Positioning for Growth and Leveling Healthcare Access
Presenter: Kevin W. Sowers, MSN, RN, FAAN President, Johns Hopkins Health System EVP, Johns Hopkins Medicine
Moderator: Todd Nesbit, PharmD, MBA, FASHP, Vice President & Chief Pharmacy Officer, Johns Hopkins Health System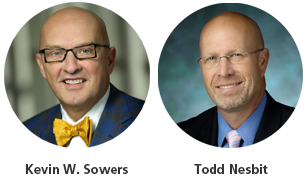 Join two health system executives who will share strategies for decision-makers in positioning hospitals and health systems for success in a fast-paced and demanding environment. Thoughtful considerations for leading health care through changing expectations from payers and patients, competing with non-traditional providers, and the integration of tactics to mitigate healthcare disparities will be included. Anecdotal stories will help shape the larger message and provide key takeaways on the importance of leveling healthcare accessibility. The interactive format will include an audience opportunity for questions and answers with the faculty.
Learning Objectives:
Identify strategic considerations to ensure positive fiscal and clinical outcomes.
List critical areas to address when competing with non-traditional providers.
Discuss leadership tactics and services to mitigate healthcare disparities.
Kevin W. Sowers
Kevin W. Sowers, M.S.N., R.N., F.A.A.N., is president of the Johns Hopkins Health System and executive vice president of Johns Hopkins Medicine.
As the second person in Johns Hopkins history to hold these dual roles, Mr. Sowers oversees the health system's six hospitals – The Johns Hopkins Hospital, Johns Hopkins Bayview Medical Center, Howard County General Hospital, Suburban Hospital, Sibley Memorial Hospital and Johns Hopkins All Children's Hospital – and sets strategies that advance our mission to deliver outstanding care, train the next generation of leaders and advance research and discovery. He also serves as chair of Johns Hopkins Community Physicians, which has more than 40 primary and specialty care outpatient sites throughout Maryland and the Washington, D.C., area.
Mr. Sowers came to Johns Hopkins Medicine after 32 years with the Duke University Health System, the last eight as president and CEO of Duke University Hospital.
He joined Duke University Medical Center Hospital in 1985 as a staff nurse in oncology and held several faculty and nursing leadership positions. His numerous senior leadership posts across the Duke University Health System included chief operating officer for Duke University Hospital and interim CEO for Durham Regional Hospital. Among his senior administrative roles, Mr. Sowers oversaw consolidation of Duke's clinical lab services, emergency and trauma services, and managed care and patient care services.
Active in many professional and community organizations, Mr. Sowers is a member of the Vizient board of directors and the AAMC Council of Teaching Hospitals and Health Systems administrative board. He served as chair of the AmSurg board and was a member of the North Carolina Hospital Association board of trustees and the North Carolina Institute of Medicine board of directors. He also held leadership roles with the American Heart Association, Susan G. Komen and the Oncology Nursing Society.
Sowers earned his bachelor of science degree from Capital University School of Nursing and a master of science from Duke University School of Nursing. He is an American Academy of Nursing fellow and has collaborated on numerous research efforts as well as consulted internationally. He has published extensively and speaks nationally and abroad on issues such as leadership, organizational change, mentorship and cancer care.
Plenary Session 4
Tuesday, October 18, 2022
2:15 PM – 3:15 PM
Future Directions of Practice: Pharmacy Leaders Discuss Success and Opportunity
Panelists
Binita Patel, PharmD, MS, BS, VP of Pharmacy, Memorial Hermann Health System
Debbie H. Simonson, PharmD, BS, Vice President Pharmacy, Ochsner Health
James Hoffman, Pharm.D., M.S., St. Jude Childrens Research Hospital
Moderator: Lindsey B. Amerine, PharmD, MS, BCPS, FASHP, System Executive Director of Pharmacy, UNC Health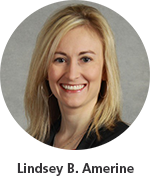 In a final plenary session, join three thought leaders for an interactive panel discussion on the future of pharmacy practice. Frank and open conversation on what has worked, what hasn't worked, and ideas on future innovations will provide attendees with take home strategies to move their own focus toward the future!
Learning Objectives:
List strategies to remain abreast of pharmacy practice innovations that impact leadership decisions.
Discuss examples of strategic pharmacy leadership success at several institutions.