Plenary Sessions
ASHP is thrilled to present a stellar line-up of presenters at the 2023 Conference for Pharmacy Leaders. Enjoy leadership-focused presentations from four engaging plenary session speakers.
Scroll down for session details and speaker bios.
Opening Plenary 1
Daniel Kraft, MD (he/him/his)
Founder, Digital.Health Chair XPRIZE Pandemic & Health Alliance Founder, NextMed Health
Monday, October 16, 2023
8:45 a.m. – 9:45 a.m.
Leveraging Technology and Digital Health in the Transformation of Healthcare
From the perspective of a leading physician, scientist, inventor, and innovator this presentation examines rapidly emerging, game-changing, and convergent technology trends and how they are and will be leveraged to change the face of healthcare and the practice of pharmacy and medicine in the next decade.
Dr. Daniel Kraft offers a fast-paced look at the next few years of innovations in medicine, powered by new tools, tests, and apps that bring diagnostic information right to the patient's bedside. A deep dive into where emergent fields such as low-cost personal genomics, AI + ChatGPT, crowd-sourced data, Internet of Things, wearable devices & remote patient monitoring, systems medicine, robotics, nanotechnology to 3D printing are transforming healthcare, the pharmacy, and have the potential to enable clinicians, empower patients, and deliver better care and outcomes at a lower cost.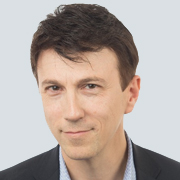 Daniel Kraft, MD
Founder, Digital.Health Chair XPRIZE Pandemic & Health Alliance Founder, NextMed Health
Daniel Kraft is a Stanford and Harvard-trained physician-scientist, inventor, entrepreneur, and innovator and is serving as the Chair of the XPRIZE Pandemic &Health Alliance Task Force. With over 25 years of experience in clinical practice, biomedical research and healthcare innovation, Kraft has served as faculty chair for Medicine at Singularity University since its inception in 2008, and in 2011 founded Exponential Medicine, a program (now evolved to NextMed Health) that explores convergent, rapidly developing technologies and their potential in biomedicine and healthcare. Daniel's academic research has focused on: stem cell biology and regenerative medicine, stem cell-derived immunotherapies for cancer, bioengineering human T-cell differentiation, and humanized animal models. His research has been published in journals that include Nature and Science. He is heavily involved in digital health, and is on the board of Healthy.io and advises several Fortune-50 and digital health-related startups. Daniel recently founded IntelliMedicine, focused on personalized, data-driven, precision medicine. Daniel is an avid pilot and has served in the Massachusetts and California Air National Guard as an officer and flight surgeon with F-15 & F-16 fighter Squadrons. He has conducted research on aerospace medicine that was published with NASA, with whom he was a finalist for astronaut selection.
Plenary Session 2
Sheryl Ziegler, PsyD (she/her/hers)
Licensed Clinical Psychologist
Monday, October 16, 2023
10 – 11 a.m.
Workforce Culture: Evolution or Revolution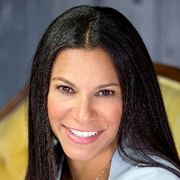 Sheryl Ziegler, PsyD
Licensed Clinical Psychologist
Denver Child Therapy
Dr. Ziegler is the founder and managing director of The Child & Family Therapy Center at Lowry (TCFCL), founded in 2004. She holds a Doctorate in Psychology and is a Licensed Professional Counselor in the state of Colorado. Dr. Ziegler is a member of the American Psychological Association and the Colorado Association for Play Therapy. TCFTCL is a private group practice made up of licensed therapists who are all independent of one another but function as a team. Non-profit Boards she has previously or currently sit on include: Mt. Saint Vincent Home for Children, SCL Health, Tennyson Center for Children, Bright by Three. She is also an advisory board member to Detach. In addition to being an active board member, she is also Girl Scouts leader, Girls on the Run coach and advocate for children.
Dr. Ziegler is the International Latino Parenting Book of the Year award winner and bestselling author of Mommy Burnout: how to reclaim your life and raise healthier children in the process. She is the Tedx speaker of Why Moms Are Miserable, and is a regular local and national media contributor. She is a writer for The Today Show Parenting Community, The Tot, YourTango and her work has been syndicated to numerous print and online outlets.
Dr. Ziegler founded and teaches a class called Start with the Talk® which is a mother-daughter talk that Dr. Ziegler developed that helps girls prepare for the transition for puberty and the physical, social and emotional changes to come. Girls are typically 10-13 years of age in 5th through 8th grade.
Digital Citizenship is also a passion area whereby Dr, Ziegler uses the Common Sense Education curriculum to lead 2nd, 3rd and 4th grade students in becoming responsible humans online.
Dr. Ziegler has appeared as a mental health expert in 100+ news related shows including The Today Show with Megyn Kelly, The Katie Couric Show, The Jenny McCarthy Show, The Doctors, CNN, CNBC, Headline News Weekend Express with Lynn Smith, Morning Express with Robin Meade, and more. Articles she has contributed to have been featured in The New York Times, The Washington Post, Harvard Business Review, TIME, Better Homes and Gardens, Parents, Real Simple, Huffington Post and more. Her book has been translated into several different languages. She is an international speaker in countries including Kenya, Nigeria, Tanzania, Germany and Australia.
When she is not advancing mental health in the world, Sheryl loves to spend time with her husband and three children. They enjoy the mountains, snowboarding, tennis, traveling, yoga and cheering on the Broncos! Originally from New York, Sheryl loves to visit family and friends as often as possible.
Plenary Session 3
Lisa Stump, MS, RPh, FASHP
SVP, Chief Information and Digital Transformation Officer
Tuesday, October 17, 2023
1 – 2 p.m.
Using Artificial Intelligence (AI) and Technology Wisely: Strategy and Implementation Essentials for Pharmacy Leaders
Join a renowned technology leader and pharmacist who will educate and empower pharmacy leaders to strategically leverage Artificial Intelligence (AI) and technology, enabling them to make informed decisions, drive innovation, and enhance patient care within their organizations.
Lisa Stump, MS, RPh, FASHP
SVP, Chief Information and Digital Transformation Officer, Yale New Haven Health System
Lisa Stump is a highly accomplished Chief Information and Digital Transformation Officer with a proven track record of success in leading complex digital initiatives. At Yale New Haven Health, she leads the strategic planning, development, implementation, and adoption of digital initiatives across the enterprise. With over 25 years of experience in healthcare, Lisa has led the implementation of many clinical, finanical, and business systems and partnered with new and innovative companies to develop new solutions. Lisa serves on the Connecticut HIT Advisory Council, where she supports statewide development of technology and data exchange policy and has served on multiple advisory committees to schools of Pharmacy and Health Professions, regionally. Ms. Stump was recognized by the University of Connecticut, School of Pharmacy as a Distinguished Alumni and by Sacred Heart University with the Community Partner Award. Lisa graduated from the Univ. of Connecticut School of Pharmacy with a BSPharm, The Ohio State University College of Pharmacy with a master's degree in pharmacy administration and completed an ASHP-accredited residency in Hospital Pharmacy Administration. Additionally, Lisa has been recognized for her outstanding contributions to the field of IT, having been named one of the Top 100 CIOs in the US by CIO.com, as the CIO of the Year by InspireCIO, Boston Region, and by HIMSS as one of The Most Influential Women in Health IT.
Plenary Session 4
Brenda Battle, RN, BSN, MBA (she/her/hers)
Senior Vice President, Community Health Transformation and Chief Diversity, Equity and Inclusion Officer
Tuesday, October 17, 2023
2:15 p.m. – 3:15 p.m.
Leading Joyfully: Modeling the Spirit of Caregiving
Join a thought leader who has "walked the walk" and will now "talk the talk" with heartfelt advice to connect your mission to tangible actions that can build joy for you and your team. Deadlines and budgets loom, but there are also ways to weave in fun and promise that connect us all in ways you may not have imagined. Brenda Battle is the Senior Vice President, Community Health Transformation and Chief Equity Officer at the University of Chicago Medical Center and she will close our conference with an energizing message cultivated by a career of caring.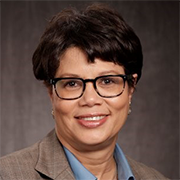 Brenda Battle, RN, BSN, MBA
Senior Vice President, Community Health Transformation and Chief Diversity, Equity and Inclusion Officer
The University of Chicago Medicine
Brenda Battle serves as Senior Vice President for Community Health Transformation and Chief Equity Officer for The University of Chicago Medicine (UCM) where she oversees efforts to design the system's community-health management strategy, develop and implement healthcare solutions to address health care disparities and foster innovation in UCM's care delivery system by crafting care models that promote equity. Brenda leads efforts to integrate UCM's resources and strategies with the assets and resources of the community to meet the healthcare needs of populations served by UCM. Ms. Battle oversees the Urban Health Initiative (UHI) which facilitates and coordinates efforts to address complex health and social needs of residents on the South Side of Chicago through a collaborative, co-designed, problem solving approach to addressing the health and social needs of the broader community in an effort to reduce gaps in the social determinants of health and health outcomes. Prior to joining UCM, Brenda was the director of the inaugural Center for Diversity and Cultural Competence for Barnes-Jewish Hospital in St. Louis, MO, were she oversaw programs to eliminate health disparities and promote equity and inclusion. Brenda served as Executive Vice President, Government and Community Affairs for Medical Transportation Management, Inc., and for several years led operations in commercial and Medicaid managed care organizations. Brenda has several publications, and serves as a national speaker on health equity.